Evidence-Based Physiotherapy Practice- What is it and how to do?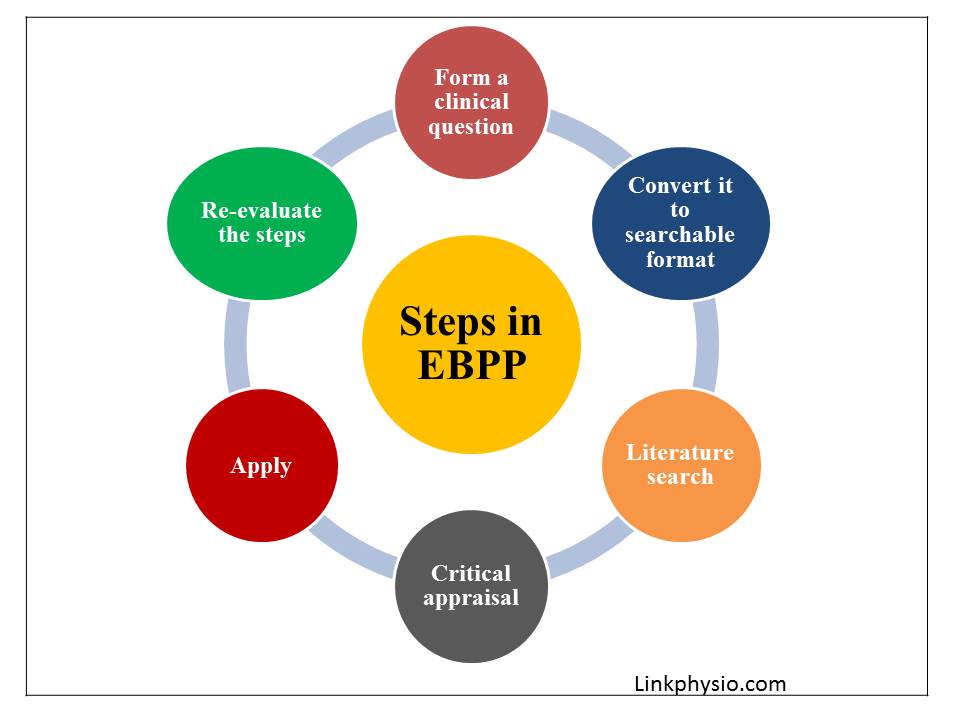 What is Evidence Based Physiotherapy Practice (EBP)? Steps in EBP
"Nothing could be more humanistic than using evidence to find the best possible approach to care" (Jules Rothstein, PT, PhD)
Background:
Any empirical observation about the apparent relation between events constitutes potential evidence. "The conscientious, explicit and judicious use of current best evidence in making decisions about the care of individual patients." (Sackett and colleagueset al, 1996)
Information, though we get from many other sources, EBP mainly focuses on research role in informing clinical decisions. The definition also suggests that the research should not be haphazard; misinterpret the information or be superficial in its content since the main purpose is to find the best available evidence in clinical decision making. (Sackett et al. 1996).
History:
The term 'evidence-based medicine' was first introduced in 1992 by a team at McMaster University, Canada led by Gordon Guyatt (Evidence-based Medicine Working Group,1992) where they realized that only way to let the students know more than they can teach was by EBP.
There had been growing concern in some countries that the gap between research and practice was too great. Beliefs were stronger than sound information. Before the evolution of evidence decisions was made by experience of higher clinical expertise which was often out of date, biased, wrong or had too many flaws. Meanwhile, doctors had a daily need for reliable information about diagnosis, prognosis, therapy and prevention (Sackett et al 2000). With this there was the rapidly increasing volume of literature which led to development of systematic reviews of high quality evidence.
In 1992, the Cochrane Collaboration was established. The collaboration has had a huge impact on making quality evidence more accessible to large number of people. One of the early drivers of evidence based physiotherapy was Department of Epidemiology at the University of Maastrichit in the Netherlands where Evidence Based Healthcare: A Practical Guide For Therapists (Bury and Mead, 1998) was published providing help to therapist to understand what evidence based practice was and what it meant to in clinical practice. Since 1999, PEDro a database of randomized trials, has given physiotherapists easy access to high-quality evidence for clinical decision making.
Evidence Based Physical Therapy Practice is "Open and thoughtful clinical decision making about the physical therapy management of a patient/client that integrates the best available evidence with clinical judgment and the patient/client's preferences and values and that further considers the larger social context in which physical therapy services are provided, to optimize patient/client outcomes and quality of life." (American Physical Therapy Association, Guide to Physical Therapy Practice, Second Edition, 2001)
Why do we need EBPP?
The main purpose of EBPP is to help therapist to select best technique to correctly identify and classify patients' problem which will enhance efficiency and effectiveness of clinical decision making.
1. EBP is based on high quality research that is safer and effective than the traditional practice.
2. Clients have unique needs, concerns and preferences. Incorporating such things in the clinical decision making is made more reliable and effective by EBP.
3. With advancement of science and technology, patients have become demanding on information about the condition they are having, causes and possible treatment plans. Though there are information sources available, all are not reliable.
4. Physiotherapy profession has changed over the years. PT is an "autonomous profession". So it is the responsibility of every professional to ensure accurate diagnosis and prognosis and inform well about the benefits and risks of intervention. So EBP has been helping to make effective decision making and give quality services to patients.
5. Many of the popular traditional practices have been outdated and are irrelevant to practice according to recent evidence.
Steps in EBPP
Research studies show that EBP leads to higher quality care, improved patient outcomes, reduced cost and greater nurse satisfaction. However, still the misconception of too difficult / too time consuming continues (Bernadette et al. 2010). So to overcome these issues, following are the steps for easy EBP approach. However, cultivating a spirit of inquiry: How, Why this and not that, these questions if not aroused, then further steps are not likely to happen.
STEP ONE: Ask clinical question in PICOT format
Random search brings hundreds of abstract mostly irrelevant to need, but PICOT (P: Patient/ population of interest; I: intervention/ area of interest; C: Comparison of intervention or group; O: Outcome ; T: Time) helps to retrieve only relevant abstract to clinical question and to identify keywords or phrase to make search specific.
STEP TWO: Search for the best evidence
Try to find articles which have already been through an appraisal processes. Cochrane, PEDro, PubMed, CINAHL, Medline and many more databases can be used.
STEP THREE: Critical appraisal of evidence
Goal of this step is to access whether the studies actually address question under meaning, process and context in relation to intervention and outcomes. Standard checklists or tools appropriate with question and type of studies should be included. It can decrease serious errors in research article. To interpret study findings we should check for:
1. Internal validity
2. Impact or clinical relevance
3. Applicability
STEP FOUR: Apply results into practice
Now the professional with his experience, education and clinical skill should be able to rule out the best available evidence for their clients unique needs, values, preferences and concerns.
STEP FIVE: Evaluate the effectiveness and efficacy of the outcome
Self reflection of the above steps so that on further practicing EBP, it would be more efficient and less time consuming with best clinical decision for the client.
Easy steps of EBP: 5 A's
Ask a question
Access the information
Appraise the article found
Apply the information
Audit
Conclusion:
Evidence Based Physiotherapy Practice is a way to provide quality services to the patients. So every professional should incorporate it in their clinical practice as well as in learning process.
References:
1. Sackett D, Rosenberg W, Gray J et al. -Evidence based medicine: what is and what isn't: it's about integrating individual clinical expertise and the best external evidence.BMJ 1996;312:71-72.
2. American Physical therapy association. Guide to physical therapist practice. Second edition. phys ther.2001;81(1):9-746.
3. Guyatt g, Rennie d. user's guide to the medical literature: a manual for evidence based clinical practice. Chicago ,il:AMA Press;2002.
4. Melnyk, Bernadette Mazurek. Evidence based practice: step by step: the seven steps of evidence based practice. AJN, January 2010.vol.110.
5. Dianne V and Jewell, Guide to evidence based physical therapist practice. Second edition. 2011.
6. Hoffmann and Bennett. Evidence based practice across the health professions.
About the Authors:
Sewika Sulpe and Shreya Shrestha are second year Bachelor of Physiotherapy students at Kathmandu University School of Medical Sciences. They are bright students and are very interested in evidence based practice. Students like them are the ones who will preach evidence based practice in developing countries.
Watch this slideshow to know details more about evidence based physiotherapy practice. You can write to the admin if you would like more information on this.