Where NOT to publish: Predatory Journals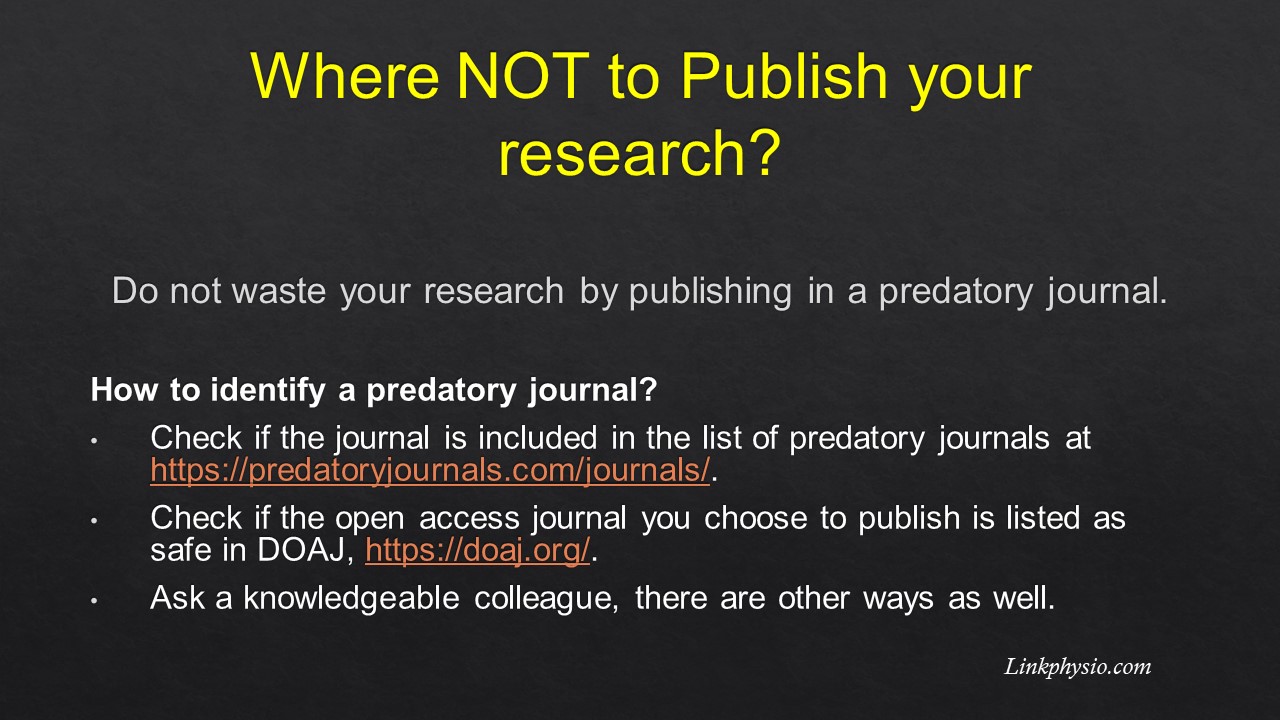 Research publication is a requirement for many reasons. For example, academicians need it for promotion, and or to maintain academic position such as Professorship; and researchers need it to demonstrate research and publication skills, which helps in securing grants. Similarly, students need it to secure a scholarship, and improve track record for career growth. But, publishing in a genuine journal is a difficult task, that demands high quality research, a lot of time in addressing the reviewers' comments, and thus months or even years in some instance for a paper to be published.
Predatory journals are the one that exploits the open access publishing model to make money. It came into highlight in 2010 where open access publishers were using it to publish articles with little or no peer review. Publishing an article in a genuine journal requires various steps hence predatory journals have identified this as an opportunity, which sends researchers/ academicians emails to publish in their journals (see some examples below), in a week or two at a low publication fee. They skip important steps of publication, such as peer review, and publish the research in couple of weeks. This compromises scientific integrity of the research. Many researchers think that publication in a predatory journal creates negative reputation, and thus should be avoided.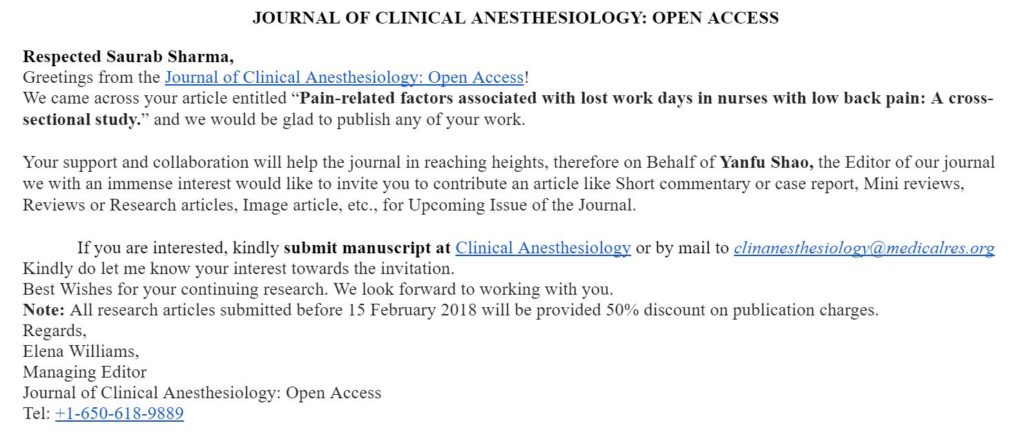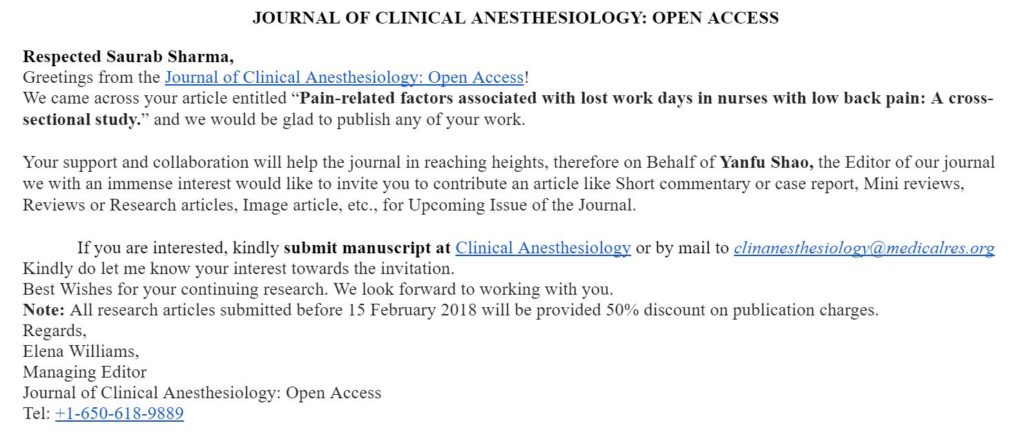 How to avoid a predatory journal?
You may check the list of predatory journals at predatoryjournals.com or Beall's list of predatory journal before choosing a journal as your research outlet. Or if one chooses open access journal as publication outlet, one may check Directory of Open Access Journals (DOAJ) for the safe list of journals. With growing number of predatory journals being indexed in pubmed, especially in rehabilitation field, it is difficult to distinguish them from a legitimate journal. To combat these problems, academic institutions should provide awareness to their faculty members and students regarding the dangers of publishing in predatory journals.
What can be the consequences?
Whether or not authors are aware about their research being published in predatory journal, when other discover that their research has been published in a predatory journal, the legitimacy of their research will be questioned. The authors will have to then retract their published research or accept that their research may never be considered legitimate. This will cause the research to be wasted, including the time, money, and most importantly data from patients. Many argue that not publishing one's research is better than publishing it in a predatory journal.
What can be done to stop this?
First of all, identifying predatory journals is very important. Secondly, Scholarly community, including authors, institutions, editors, and publishers, should support the legitimate scholarly research enterprise and avoid supporting predatory journals by not publishing in them.
For more communications regarding this, follow #predatoryjournal in social media.
Another important website to consider reading is, Think Check Submit.
About the author
I am Bandana Gautam. I have completed my bachelor's degree in physiotherapy from Kathmandu University School of Medical Sciences, Dhulikhel, Nepal. I have worked as a physiotherapist in both clinical and rehabilitation setup. My interest in research has now driven me to work in a low back pain study as a Research Assistant. Apart from my clinical and research work, I enjoy reading novels and playing sports (mostly table tennis and basketball). My further goal in life is to pursue a higher degree in physiotherapy and be a good physiotherapist and a teacher.